I keep liking Salsa's bikes more and more. No, not just the new Horsethief, which looks great, and picks up very nicely from where the Spearfish left off, but all of Salsa, everything they do, appeals to me these days. Freakishly so. Seriously.
Maybe their riding is similar to mine, or maybe I'm right in the bullseye of their demographic, but it occurred to me this Interbike that I could be a pretty happy guy if every bike I owned was a Salsa. They somehow make every type of bike I need really want.
How do they do that?
Take the Fargo. Already my La Cruz is my most ridden bike, but I should really consider a Fargo, because I can't stop riding the 'cross bike on single-track, even rock gardens.
The Mukluk calls to me. It's true. I once upon a time owned a snow bike, and I miss it, and the Ti Mukluk is like somebody took my snow bike, made its skeleton indestructible and lighter, and then put it behind financial glass I regularly press my face against until my nose hurts.
And then there's the new Horsethief. The Spearfish was just about ideal for the riding I do, but the Horsethief could well be better.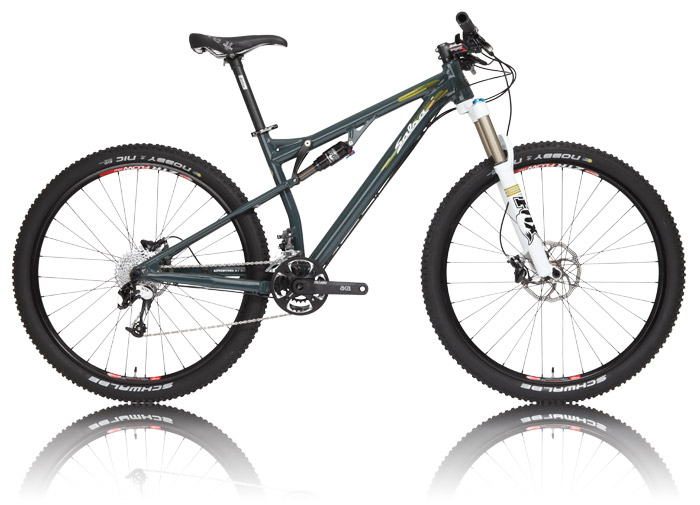 Like the Spearfish (and the Big Mama before it), the Horsethief uses an ultra-simple leaf-spring style rear pivot, which approximates a "faux-bar" or single-pivot suspension, with some nice side-effects. One is simplicity–both in terms of maintenance and ride quality: pretty easy to own, and easy to learn the ins and outs of while riding. In fact, the more aggressive geometried Mamasita is probably the only Salsa frame I've ever ridden that didn't feel comfortable, natural, and very predictable, on its first ride.
Where the Horsethief breaks new ground for Salsa is in the travel department: 120mm rear travel beefed to handle up to 140mm travel front fork. The lack of a Horst-link or faux-bar pivot near the rear axle, combined with the alignment of the swing link on this bike promise a pretty solid pedaling platform. Throw in the added travel, and you we should have a decent climber on our hands, but one that can really take the hits. Clearances for tires up to 2.5″ and a tapered head tube are almost mandatory on a frame like this, and the Horsethief has both, along with 142mm rear axle spacing, a very good idea on a frame like this. Given the multitude of guide options out there now, it's also nice to see ISCG05 tabs on the frame.
But what I really like, probably the most about everything Salsa right now–and yes, I know I'm nuts–is the smaller graphic on the downtube of the Horsethief. In a radical departure from the current trend of oversized logos and graphics (I think BMC pioneered this effectively, and then it's been spun off increasingly ineffectively since) the "Salsa" logo on the Horsethief isn't gigantic. It's a decidedly understated logo that fits with the even more decidedly understated color of the bike. You just take this thing out in the woods and ride it.
Maybe it's the text size of the logo, which is just about the same as Honda HRC factory motocross decals from the mid-'80s.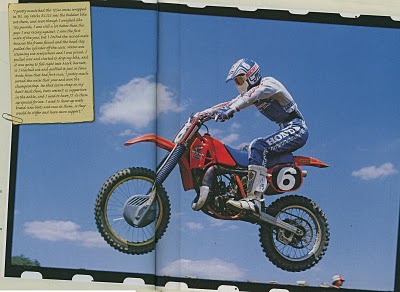 Those little letters take me back to a wonderful time in my life when I felt about Bailey, Magoo, and O'Mara roughly the way my own kids now feel about Thor, Hulk, and Spiderman. A beautiful, carefree time, when I would've thrown an elbow into a nun's face to get a "Honda" factory sticker with the red, white, and blue wing instead of my oh-so-ordinary yellow wing. (Somehow I did manage to get some, eventually, and the HRC decal, too, and I'm pretty sure I didn't even have to hurt a nun.)
Happy coincidence, Salsa? I think not. At the risk of being killed just for divulging this, I have, in fact, been inside the top secret Salsa bunker buried deep within the Quality Bicycle Parts fortress in Minneapolis. Did I, while in there, observe what appeared to be a bald man in a wheelchair, surrounded by highly sophisticated looking equipment? I'm not saying I did or didn't.