For me, one of the most exciting developments in the ongoing merger of urban cycling and the fashion industry is the elimination of the bicycle. When you think about it, the bike–what with all those annoying moving parts, air-filled thingies, physical demands and just overall unappealing movement–really was the weakest link in the chain, so to speak.
So it's nice to see that "bicycle designers" like Helio Ascari (pictured above) seem to have finally dispensed with the most cumbersome of cycling fashion accessories: the bike.
From the Wall Street Journal we learn that Helio, who's uncle's father was a Formula One World Champion, and whose father won the Belgian and Italian Grand Prix, "designs and fabricates bicycles for racing." In fact, he's quite passionate about the bicycles he "designs and fabricates," as the WSJ reveals:
As a designer, Helio puts as much attention into the crafting of his bicycle frames as he does into the selecting his clothes. 'It's all about aesthetics in all the details,' he says."
Conspicuously, the closest Helio comes to discussing "fabrication" in the brief article is to recommend dyeing one's own garments to achieve a "vintage feel," pointing out that he dyed his fetching light blue scarf in coffee grounds, apparently all by himself. Finding this strange, I began to search for the elusive "Helio Ascari racing bicycle." Or any bicycle built by Helio Ascari. And then anything "Ascari bike" or "Ascari bicycle." Plenty of information about Ascari supercars, or the racing circuit, but, regardless of how broad the search, all I could find relating to bicycles were pieces pointing back to the original Wall Street Journal fashion blog post, and a few mentions of Ascari as a male model living in New York.
When I finally did track down a detail shot of the only bike I found near Mr. Ascari, it turned out to clearly be a Pashley Gov'nur.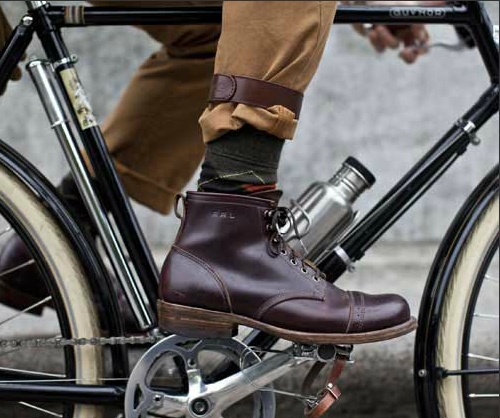 This suggests that–unless Pashley consulted with Mr. Ascari regarding a particularly tricky paint job involving coffee grounds–the only place Ascari has ever designed or fabricated bicycles is within that brief WSJ post. Still, one stray image gives me a glimmer of hope that I may have found the elusive "Ascari Racing Bicycle."
Still, the subtle pink pinstriping on the chain guard suggests he had input from Rapha.
The high-fashion faux-fabricator thing is something we're seeing more and more of these days, and I, for one, think we'll all be much better off when fashion has finally managed to assimilate bike culture entirely and do away with the nasty "bicycle" aspect of it, leaving a pure and beautiful army of bespoke appareled models, walking around with one pant-leg held up by a Brooks leather strap and sporting a general "imaginary Ireland in like 1900″ feel, but with reflective piping. You know, the equivalent of what happened to skate fashion.
The really good news for all of us napkin doodlers? Turns out you don't need to make bicycles to be a "designer and fabricator" of bicycles. You just have to tell people you're a "designer and fabricator of bicycles." So easy! Bet you feel stupid for investing in that pipe bender now. Meanwhile, if anyone out there has seen one of these elusive Ascari bicycles, please send a photo.