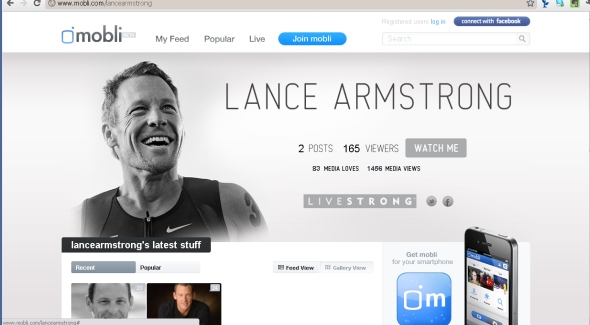 So much bicycle and tech news to get through today, starting with business tycoon and inventor of yellow bracelets, Lance Armstrong, who's joining the board at tech startup Mobli, a "place" (you're not supposed to call them web sites any more) where people can post videos and images of their lives so that other people can oogle them. I've noticed that blending celebrity with tech startup is the new hipster business model, maybe because all conventional forms of publishing and making money off of content are rapidly disintegrating, and it's getting tougher and tougher to buy that sixth Ferrari each and every year. Hence we find ourselves entering the age of the human "celebusinesses," people like Zooey Deschanel who act, sort of make music, and sell us shit based on the fact that we're almost buying it from Zooey Daschanel. It's a weird kind of pop-culture feedback loop, no doubt. Mobli offers "channels" that attempt to be peoples' lives, so you can basically stalk someone without having to actually put on pants and go outside. Given that one of the only things America is producing these days is narcissistic self-obsession, I predict Mobli is going to blow up huge–or at least get a ridiculous amount of VC money before going public and losing two thirds of its value in three days. In going direct-to-consumer with his life, Armstrong joins a roster of Mobli celebrities already investing, on the board, or just inflicting themselves upon us making their lives available for view, including Leonardo DiCaprio, Paris Hilton, and David Arquette. I would have provided more information about Armstrong's specific "channel," but once I got to Mobli, I found it impossible to look away from David Arquette's life.
In other news this morning, Reverend Paul Sinclair is reconsidering the sale of his tandem hearse. According to Sinclair,
I said I wanted to sell it because I was struggling to ride it. But I have had so much interest in it since I said that, and people saying 'Oh, I'd like to use that', I think what I should be doing is hunting out someone fit enough to ride the thing for me."
Rumors that the massive influx of interested buyers was largely the result of a Canootervalve post advertising the tandem hearse could not be confirmed at the time this post was written.
Frame Material: Steel
Head Tube Type: Standard 1-1/8″
Fork Steerer Tube Diameter: 1-1/8″
Seatpost Diameter: 27.2mm
Rear Dropout Spacing: 135mm
Rear Dropout Type: Standard Geared
Maximum Tire Size: 26×2.3-inches
Wheel Size: 26-inches
Front Dropout Spacing: 100mm
Water Bottle Bosses: 1 set, top of downtube
Color: Green
Size: 18-inch (both captain and stoker)
Here's your chance to pretend to own a truly exclusive bike. This is the only tandem bicycle hearse in the UK. The Reverend Paul Sinclair of Motorcycle Funerals had this unique bike fabricated for addition to his unique line up of funereal vehicles. Unfortunately, Reverend Sinclair does not feel he's sufficiently fit to operate the hearse, so he's making it available in the hope that it will one day find a good home. Own a genuine piece of British history that just also happens to be able to transport dead bodies. Should also be able to transport at least two kegs, 4-8 surfboards, children, furniture, and another bike.
I haven't forgotten that I'm supposed to drop the little bit of code required to make that "product for sale" box in anybody's WordPress page (and probably just about any other type of blog post, too). I would've gotten to that today, but I was too fascinated with the new clothing line by venerable saddle manufacturer and arbiters of all things "authenticly artisanal," Brooks.
Word from Bicycle Retailer is that Brooks has controlling ownership of Pedaled, a Japanese company offering clothing for people who's smugness precludes them owning anything of opulence that doesn't involve bicycles or coffee. And once you've installed your own indoor Peruvian forest and bean roasting facility, about all that's left is to spring for a $520 jacket. Suck on that, Rapha!
Like all truly expensive hipster-wear, Brooks new Pedaled clothing is displayed hanging from meat hooks, evoking simultaneously a sense of casual durability and a disdain for lofty marketing, with just a hint of unrepressed veganism. When you can finally manage to pry yourself away from the life channel of Lance Armstrong or David Arquette and start looking for pants, you can, of course, purchase stuff directly from Pedaled.com. I don't know what the mark-up is on a $120 t-shirt, though, so I can't fault Brooks from cutting out bike shops and going consumer-direct with this new line. Something tells me the new line isn't targeted at "people who ride bicycles" anyway, so much as "urban cyclists" looking for "outfit solutions."
Final note: so I changed my logo over the weekend. I'd always disliked the original graphic, and some updated descriptive text was in order, given that bike technology is only one of the topics my rants occasionally veer into. In the process, I noticed that my "theme" had gone wonky. WordPress lets you plug in various themes–the look and feel of your site–but WordPress itself seems to get updated about once every thirty-seven seconds, and that can screw up some more unique themes. The lesson for WordPress users who don't want to wrestle with this sort of thing? Use a really boring, standard theme, and let your images, logos and overall content be what makes it unique. It really should be the content that people find interesting anyway, not the decorations. Or so I've read.