Under the cover of high-profile SOPA protest blackouts, two ground-breaking innovations occurred yesterday. We finally saw detailed photos of Magura's RT8TT hydraulic rim brakes, and Groupon finally had an offer on ShakeWeights (only $12!).
Plenty of people are happy to pounce on the perceived ridiculousness of a hydraulic braking system for road bike that doesn't involve a shiny disc at the center of the wheel, and by all accounts, the momentum is solidly behind disc brakes for road bikes right now, boosted, no doubt, by disc brake advocates and current Goliath-slaying Bike of the People, Volagi. Why the hell would we want the pain-in-the-ass of a hydraulic system mated to all the old problems of rubber pads clamping a rim?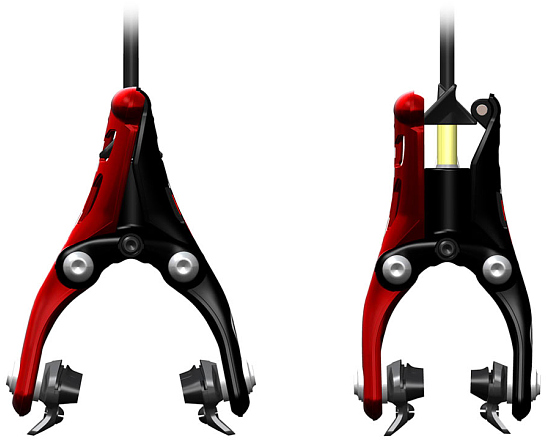 I have to admit, the notion sounds a bit silly–like adding a smartphone touchscreen to an 8-track player (or an 8-track repair company's Facebook page). In fact, had I never ridden the original Magura HS-33 hydraulic rim brakes, I'd be unable to stop laughing at the whole idea of a hydraulic rim brake for road bikes. But as somebody with considerable time using those old Tomac stoppers, I have to imagine they'd be light years better than conventional TT brakes, and someday, may one day even contribute to a 0.4% drop in the cycling technology-related death rate of triathletes.
For all their faults–like the commitment required to properly align them or the way their horrible stock steel "boosters" made "aluminum" seem exotic as a material–the HS-33s had a range of stopping power that was like watching a color TV compared to the black and white of V-brakes (or the fuzzy white screen of most cantilevers). If there is such a thing as "mid-range" the hydraulic rim brakes had it to spare, and when it comes to controlling a tottering speed-centric death missle of a TT bike, I get their appeal.
But still, come on.
Hydraulic rim brakes?
Apparently, so, according to this Shimano patent filing from 2009.
Sure, the cost of a few patent applications is nothing to Shimano, but we seem to have an awful lot of thought going into a technology that will likely make an appearance, crack the fuck out of a few dozen carbon clincher rims, and then show up on eBay next to Airlines shifters.
This doesn't feel like innovation to me. I mean, we were promised jetpacks, right? Where are our jetpacks?
Disc brakes have finally become a default in the world of mountain bikes because the perceived advantages now outweigh the disadvantages. Pioneering hydraulic rim brakes on a road bike feels inherently wrong.
Now magnets, those are the future.