Engineering friends much smarter than I am contacted me about yesterday's post, wherein I wondered what the hell was going on with Shimano holding patents on the 15QR system found on Fox forks. While I'd known that Shimano designed the QR axle on Fox forks (great, because Shimano makes the best quick-releases), and that Shimano and Fox generally partner any time ergonomics or handlebar-mounted controls and such are involved, what surprised me yesterday–and still makes no sense to me today–is why Shimano seems to be patenting so much suspension technology these days.
The questions I have aren't technological; they're about the two businesses. I counted eight suspension patents filed by Shimano between 2009 and 2011, most involving the integration of electronics into damping and spring systems, but some that seem pretty fundamental to damping adjusters. No big deal, right? Maybe Shimano has a deeper partnership with Fox than I'd thought and they're actually involved in designing sophisticated fork innards for them. Shimano's a bigger company, and they certainly have a vested interest in supporting a SRAM/Rockshox competitor, so maybe they're lending a significant amount of mental horsepower to Fox's suspension development.
Except this is Fox. We're not talking about Crank Bros. here. All of the engineers at Fox tend to know their stuff, but Bob Fox himself is a genuine sleeves-up engineer who knows more about suspension systems than arguably anyone else in the industry. His name is on a whole lot of patents. All by themselves Fox seems to certainly know what they're doing (you don't see Shimano making suspension systems for off-road racing trucks). Sure, Shimano's filed eight suspension patents since 2009, but I stopped counting at fourteen in the same time period for Fox. They're smart.
Case in point, this May 2011 filing which–though I could certainly be wrong–seems to suggest some version of ProPedal, or "at least four spring curves," is on the way for forks.
I get why Shimano has enlisted Fox, but why is Fox relying so much on Shimano? Focusing on damping systems and leaving the "bike interface" parts up to Shimano–and relying on the monster sourcing and manufacturing power of Shimano–makes sense to me, but not the part where Shimano is tinkering with valving and stuff, if that's what they're actually doing. They're certainly doing it with electronics, though. I guess what I'm saying is that I can't figure out where the line is here. If someone were to tell me Shimano owned Fox, for instance, all of this would make much more sense than it does now.
Bigger-picture-wise, two things are clear: whatever the business partnership between Shimano and Fox is, it's much bigger than I'd thought, and, maybe more disturbingly, Shimano electronics are almost inevitably headed into your suspension in the future.
Just typing this I shudder at the memory of nine volt battery and little LED on a Pro-flex Smart Shock. Obviously the systems in the patent drawings look a hell of a lot better than that, and maybe they'll only use it on hybrids and stuff, though that seems like a hell of a lot of technology for a user who travels to bike paths with his bike bungied upside down on top of the family sedan. Unlike previous attempts, these systems would probably even work correctly more than half the time, but still, this rough drawing of the proposed little gearboxes that'll be fumbling with our future dampers is a little disconcerting.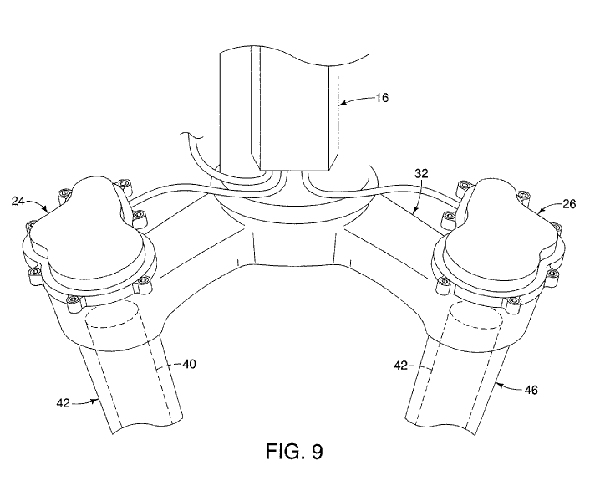 At least the added space necessary for the drive motors and stuff will force pretty much everyone to increase fork rake.
Eventually, though, I do see us running out of places to put batteries on our bikes. Hopefully the economy will have fully recovered for most of us by then, so we can pay some riffraff rigid single-speeders to ride along with us, carrying all our extra batteries and maybe an extra water bottle or two.