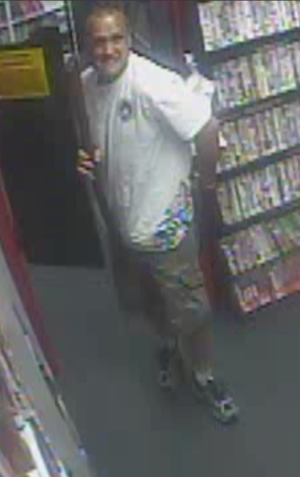 It was 84-degrees for the ride home from work today, but just when I was due to shave my head again, this guy robs a Portland video store of its prized classic movie guns and escapes on a bicycle. By 2015, Portland's goal is to have 30% of all robbery escapes occur by bicycle.
My own theory, based on his facial expression in that photo, is that this guy just really needed to use a bathroom and, finding no public toilet in the video store, stole the gun to put himself out of his misery.
So Danzig. When I started work on this frame, there was no such thing as BB30 or Press-fit 30. The original design was built around a conventional English bottom bracket. Though it looks like the original pivot configuration will work with an oversized bottom bracket, I've started to look at optimizing around a much larger diameter bottom bracket shell.
This means adjusting the lower pivot orientation, which is what I was up to late last night.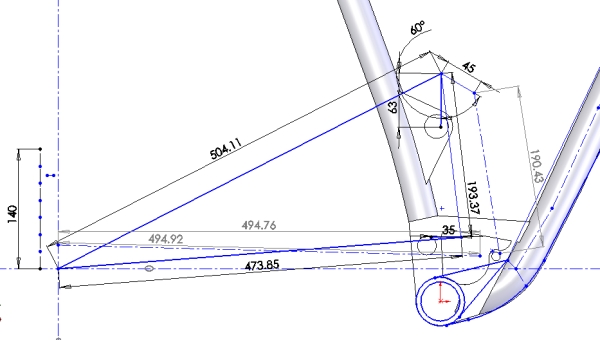 In case anybody's curious, raising the lower pivot location kicks the axle path back further initially. This makes sense if you imagine your instant center–the middle of your pivots' rotation–as the center of a giant circle. The higher up you move the instant center, the higher up you move the whole circle. And the higher the circle, the more your axle kicks backward during that phase of the travel. Here's a better view of the same image that probably won't make any of this any clearer, but what the hell. Everyone likes circles.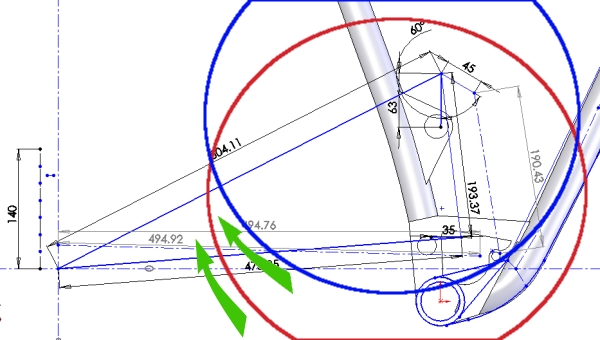 The red circle is our original pivot center. The blue circle is the revised, higher pivot. The green arrows represent how the height of those circles affects the shape of the axle path. Your axle path is only a slice of pie cut out of that circle. Where you cut it changes how the bike pedals and rides. Completely. Important pie.
So that's what I'm pissing with currently. Axle path–our slice of the circle–is also directly related to the force of the chain that's trying to pull the bike together. If I find some magic extra horsepower to stay up late again tomorrow night, and if I'm not arrested for robbing a video store or run down by a perp pulling a daring recumbent getaway in North Portland, we'll add that force to our circles.