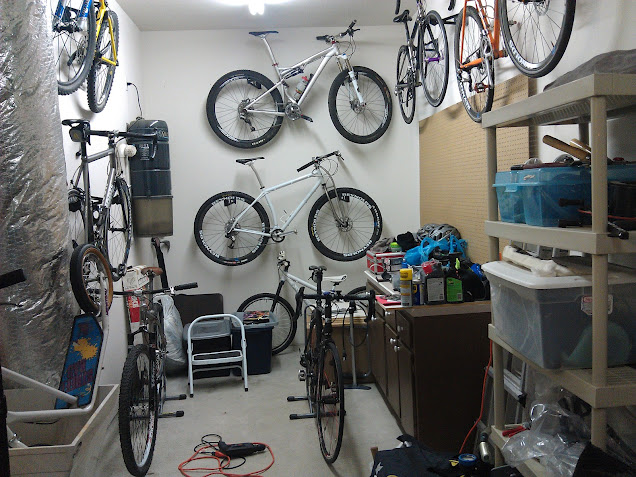 Bike build area in the new house is starting to come together. Still plenty of work to go around, but I managed to make some progress this weekend. Also found some time to build a new upper link for the vertical shock placement on Project Danzig.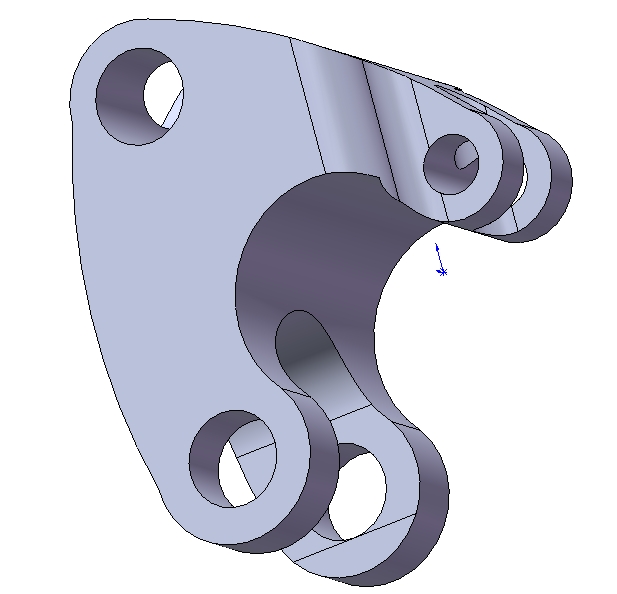 Last week I tried to explain what I was thinking in the development of Danzig's instant center, which starts right at the intersection of the chain and middle ring and travels largely backward, along the path of the chain.
There's also a set of reasons that went into the axle path and the final shock orientation of the frame. After endless hours trying to model exactly what I wanted out of the rear axle, I finally dialed it in using a few simple pieces of paper. In locating the instant center primarily behind the center of the bottom bracket, the swingarm rotates almost on its own center. This allows some pretty interesting shock placement options, but my favorite is the vertical shock. Because the swingarm nearly pivots on its own center, the upper link can drive the shock straight down. I hope to be able to redraw some of this over the coming weeks, but what I like about it is the inherent simplicity. Really short links mean less weight, but also economy of motion. Economy of motion was something I really hoped to build into the design. The vertical shock orientation also means the bottom of the shock anchors right beside the bottom bracket, an inherently strong area.
Really, it'll take the prototype to see how all of this works out, but I suspect developing anything like this is a matter of balancing all the things you want, and I was really happy with the way all the characteristics seemed to work together on the design. The pivot placement that kept the instant center where I wanted it also led to the axle path; the axle path led to the economical upper link and shock motion and location.
Times like this I wish I were a much faster Solidworks user, instead of a self-taught hack. I'd love to be able to redraw Danzig from the ground up at this point, and I guess that's what I'm doing while we work to put everything else in place.
In the meantime, I've been more than a little unhealthily fixated on Surly's Krampus.
And how great that the first decent Krampus sightings seem to've come from Tae's blog. (A finer gentleman, you will not find.)
Krampus is so much more than just a 29er with 3-inch wide tires. It's a reassertion of Surly's dominance in the realm of blowing minds. Once again, Surly has made the world a little better.