I'll be traveling to Portland on Thursday, and I have to admit, I'm a little intimidated. I've ridden mountain bikes, road bikes, and various things in between for a whole lot of years. I've also spent a good bit of time on single-speeds, done some stupid stuff on tandems, and towed kids on the fixed. I am also, apparently, associated with the bike industry, meaning a trip to Portland, even one strictly for business, is supposed to feel just a little like coming home.
But the thing is, I've never ridden a tallbike, and I have no intentional piercings. If left to my own devices, I will not drink Pabst Blue Ribbon or make my own bike parts out of leather. More concerning still, the creativity of my facial hair ranges only from "getting slightly straggly" to "just shaved." My riding conditions here in Mayberry also couldn't be more different. Much of my experience sharing the road involves places where cars rarely travel (though, in fairness to me, when you do see a truck on some of the roads I ride, it's usually best to dismount and scurry up the nearest tree before it can even get near you). To my credit, I've been in a band and own some really nice cloth grocery bags, but the band was a long time ago, and I think the bags were mass-produced.
Portland just bore witness to the Mini Bike Winter Olympics in general and the Ben Hurt Chariot Wars in particular, which, to my untrained East Coast eye, appears to be a cross between a GWAR show, a Michael Bay film, and that eviction scene at the end of Michael Moore's Roger and Me. Of the various places where you can check out the festivities on the Internets, the most hipster ironic is a site out of Texas with completely corporate name.
Further irony, I'm headed into the heart of Steampunk to, among other things, discuss a bicycle frame that's pretty non-retro and very "not steel." In fact, it's pretty damn high tech. Blog entries may be patchy over the next few days, but I'm hoping to show everyone a rough sketch of the new frame design. I'm finalizing a revised drawing of the the suspension that shows the shock now in the (hopefully) final, vertical position, and I hope to be able to post that up here before the week is out.
In the meantime, I'm concerned about how high the pivot is on the Superlight 29er, but I still want one. I'm a single-pivot guy from way back (but, then again, everyone who owned a full-suspension frame before 2000 pretty much had to be a single-pivot guy), and I think this bike would be just a total and absolute blast to ride.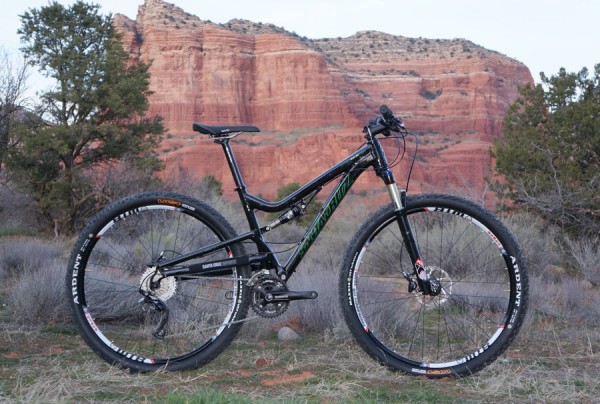 And the new dropouts on the Highball Alloy frame? So very, very nice. I've had a man crush on Graney and the entire SC engineering department for years (guess I'm just drawn to the dangerous bad boy types who–literally–wear the engineering hats at bike companies). Seriously, look at the dropout.

Others have done similar things, but somehow the guys in Santa Cruz keep taking the rough-edged ideas normally found only on Hand Built Bike Show bikes and adding shit like "mechanical engineering" to create things that look good and work really well. They've made all kinds of slick shit at SC, but for my money, "captured nuts" is the concept that pretty much sums up the brilliance of that company's entire crew; they've harnessed the power normally reserved for building the worlds first 100% deadly potato cannon or remote control 4×4 beer keg, and used it to create arguably the most rider-friendly bike designs ever made. Just very polished, usable products.
In contrast, consider the particularly un-usable Motörhead box set even Lemmy doesn't want you to buy. First Elvis Costello, and now Lemmy Himself, is telling fans a record company's box set of his early material is overpriced. According to this article from the Consumerist, "Unfortunately greed once again rears its yapping head," says head Motörhead Lemmy Kilmister. "I would advise against it even for the most rabid completists!"
Only in the UK can you look like Lemmy . . .
and use a phrase like "rapid completists."
Come to think of it, I have my mantra for the whole Portland trip. When it comes to being authentic without going hipster, Lemmy is the way and the light.