You're looking at the new DeLorean bicycle. Yes, that DeLorean. After the streak of genuinely interesting brand collaboration bicycles that included the mini-moto Audi/Ducati bike and the Aston Martin Factor bike, I'll admit I'm having a bit of trouble situating the stainless steel DeLorean somewhere on the continuum between "losing all desire to live" and "hey, that's pretty OK."
Normally, it'd be a goof-magnet, and at almost $5500, it certainly meets the Decadent Excess criteria, but I'm thrown off by the president of DeLorean, Stephen Wynne's meta-like realization that he's being asked to participate in the bullshit fashion world accessorizing of bicycles:
When Wynne was first approached about the idea, he was skeptical. 'I basically, said, "Yeah, I'm interested, but I don't want to do a $5,000 bike that's really a $200 Asian bike with a badge on it," he says, 'which you customarily see from other brands.' Wynne was quickly persuaded, however, that expanding the DeLorean name from four-wheels to two wouldn't be a shameless, superficial exercise in branding. This is because the bike and the car share a core strand of DNA: the stainless steel body.

'They said, "No, we want to do a stainless steel bike because stainless steel is the new cool, if you're into bikes," he says. 'It's sort of taken over from carbon fiber.'"
All this begs the question, "Is it still a shameless and pointless tie-in if you know it's a shameless and pointless tie-in?"
Or if you believe stainless steel has "sort of taken over from carbon fiber." Nice as it is, stainless steel certainly won't be replacing carbon fiber any time soon, but I can just picture the bullshit meeting at which a line like that squeaks out into the room. Besides, everybody knows it's granite, not stainless steel, that's taking over from carbon fiber.
Best to ponder that while we move to SRAM's 1×11 group, which is apparently going to be a reality, based on some near production looking photos popping up at Bicycle Retailer, Bikerumor and Bikeradar.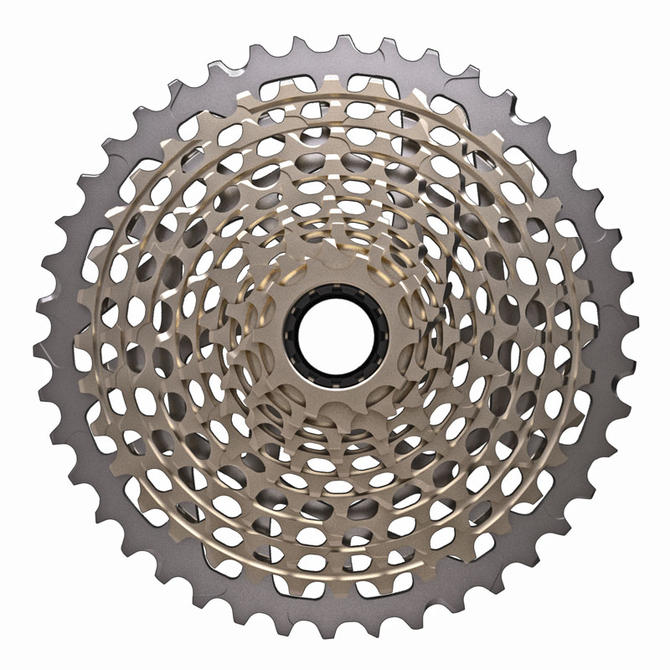 Remember the impromptu and completely unprofessional poll I took on the 1×11 group, in which the vast majority of readers needed to know the cost, but many others just plain hated all over it? Based on current info. I doubt those original results are going to be overturned. SRAM's beast of a cassette will, it appears, require a proprietary hub from one of a few wheelset manufacturers (DT Swiss and SRAM are mentioned, but by now we all know Mavic is also fond of longer than currently fashionable cassette bodies, too). So it's coming, and it's going to need a new kind of cassette body.
The problem I see here is that if you can't show a new item with at least some connection to Enve Composites–and preferably sporting the Enve rims–it's not technically possible for anyone to consider it cool. Here then we encounter the unfriendly intersection between Proprietary Cutting-edge Gadgetry and Artisanal Badassery–at least until somebody somewhere can capture a photo of the igloo-sized Powerdome 11-speed cassette on a wheel sporting an Enve rim.
For what it's worth, my own wide range cassette idea–zip-tying a 53t chainring directly to my spokes and running it just inside my 34t "large" cog–is unable to be patented due to some extremely narrow-minded thinking on the part of the U.S. Patent Office re. the use of zip-ties as "structural members."
But they'll come around eventually.