I have to come up with some bikes for my kids. Actually the girl child has a pretty badass little 24-inch Santa Cruz I concocted based on an idea I got from framebuilder and ultimate bike-for-the-kids-creator Jeff Jones. The boys need at least one new bike, though, and I wish I could find something that looks pretty much exactly like that monkey's bike.
I'm serious. Why doesn't anybody make like a kids bike with larger wheels, but small crank arms–like 145mm? That's sort of what I did with the Santa Cruz, and it makes perfect sense. Bikes like that are ultra-stable thanks to the whole sitting "in" the bike with some bigger wheels up around you (you're basically creating a scaled down 29er in that regard), but everything else is kid-size. So there's that on the agenda, if I ever get my garage finished.
I spent most of yesterday writing product descriptions, put in what felt like my weakest ride all year to get home, wrestled Facebook in a professional capacity (just like wrestling it for fun, except for the company issued luchador mask), then wrote some javascript to help make a site compatible with iPads. That last one is positively insane, as I haven't written any genuine javascript functions in over a year. It was a little like meeting an old friend who no longer speaks the same language, and trying to build an airplane together out of shit you found behind a Radio Shack.
Oh, what Javascript and I had been through together! And to think now we barely know one another. I'm so happy with it that way.
Anyway, I seem to've found a little extra in the tank to crank out this Danzig redesign. I'm happy to report that after obsessing about pivot locations on my ride into work this morning, and on my sorry excuse for a ride home, it occurred to me that I can generate plenty of space for a PF30, or a PF50, or whatever the hell massive oversized beast becomes the next standard.
The nice thing about the relocation is that it also makes the frame easier to build. The key was a proportional move up and back for the lower pivot. Here's Danzig PF30.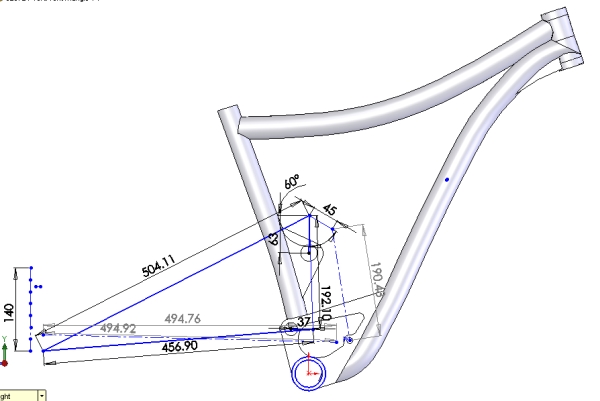 Remember yesterday when we looked at instant centers and how their vertical position affected axle path? Maybe it didn't sound like that yesterday, but the bit about the higher the instant center the move rearward the axle path would be–that stuff? It turns out that axle path is my guiding principle when I'm moving my pivot locations. Right or wrong, there's a set of criteria I'm following that dictates my axle path, and that range is what dictates my pivot locations. Using more goofy graphics and animations, I plan to dig into that next week.