Pivot released images of some pretty wild new frames today, including the new Mach 429 Carbon (above) and the Pivot Les hardtail. Impressive as the much anticipated 429 Carbon is, the modular drops on the Les are really intriguing. You can click through the photos for more info.
On the subject of new pivots, I'm definitely back off the Solidworks wagon. After taking some time away from it, I'm definitely back in and I have to say, I love this stuff. I'm going to sound like an ad for the software, but Solidworks is just scary powerful. What you can do with physical spaces in this program is just incredible.
None of this is helping me out right now, though. I have what I need to complete this next phase and be able to create an entirely new 3D model, but I'm obsessed with optimizing the spaces between things here. And so I draw. And redraw, and redraw again.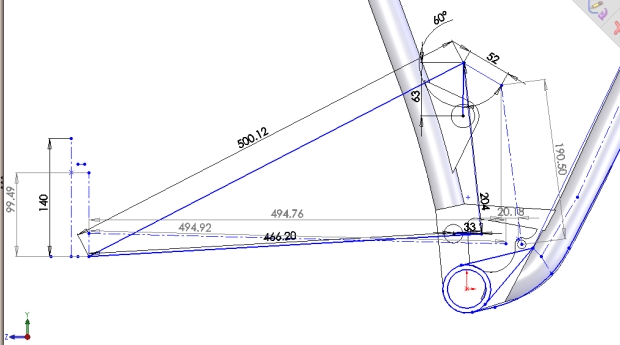 I'm convinced there's a way to simplify the new Crankcase (the bottom bracket shell/pivot box) even more. That's what I'm working on right now.