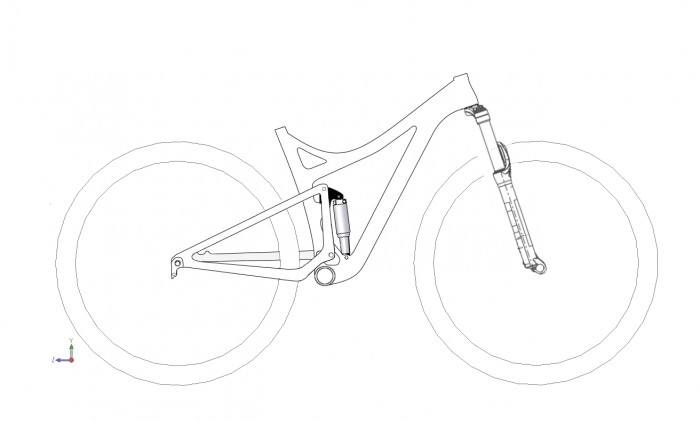 It occurred to me this morning that I need some sort of top secret code name for the suspension project, which continues to inch ever closer to reality. Mentioning that you're looking for a top secret product development code name in a public forum is either some clever-ass reverse psychological marketing, or just plain stupid, but after a whole lot of years spent hunched over my test paper and scribbling frantically without letting anyone else in the class see my work, I'm all about sharing. If this bike ever does get made, it will probably be because of good friends and people just like you, whoever the hell you are, so why bother with the cloak and dagger bit.
Yes, the last time I started a little bike company, I chose the name myself, and I'd like to think I've learned enough from that experience to see the benefits of doing the complete opposite of almost everything I did back then.
So once upon a time I started this company called Asylum Cycles, and we sold what was basically a Titus Racer-X with 29'er wheels. It was a pretty popular frame–so popular, in fact, that Titus went ahead and started selling the Racer-X 29 based on exactly what they'd built for me. Well, maybe not exactly. I think they offered different colors. To be fair, they gave me advance notice–that is, if you count me seeing photos of the new bike in an issue of Mountain Bike Action. Other than that, it was a total bindside. If anyone out there knows the players involved, for the record, Cocalis wasn't the one responsible for the shenanigans, and the ownership certainly had a right to do whatever they wanted with a frame they were producing. Even really sleazy shit like shipping me a bunch of frames and then putting their own version on the market. This is call "capitalism," and lots of dicks do it.
Before imploding, Titus went on to rename that bike the "Rockstar," which is the kind of self-inflicted wound I'll go ahead and count as my payback. "Rockstar"?
But I still have the original prototype frame, for which I created a special Marzocchi Shiver SC fork with chopped stroke (Marzocchi was an Italian company that used to make suspension forks people occasionally purchased, before Fox entered the market and SRAM bought Rockshox.) Inverted forks convert pretty easily for use with bigger wheels, and the old silver Shiver tended to look about as "prototype" as possible, partly because Marzocchi themselves didn't seem to know what the hell it was supposed to be.
Originally based on way steeper geometry, my frame absolutely came alive with the taller fork and slacked out head tube angle. It was seriously shocking, how much better what turned out to be about a 70.5-degree head tube angle was with big wheels. I couldn't stop riding that bike.
That was a long time ago, when Gary Fisher's first hybridy sort of 29ers were just entering the market and baffling people left and right. I dissolved the Asylum Cycles name years ago, so we definitely won't be using that name for any new company, even if it would make some of my old t-shirts and jerseys almost relevant again. Fact is that even after I shut Asylum down, the design process kept rolling on behind the scenes, eventually evolving into the creature at the top of the page, a design I'd like to think is more than a few lifetimes better than old Horst-link designs, and something deserving of all new names.
"Rockstar" being taken, I'm really at a loss for what to call the project at this point. For now, I'm leaning toward "Project Danzig."