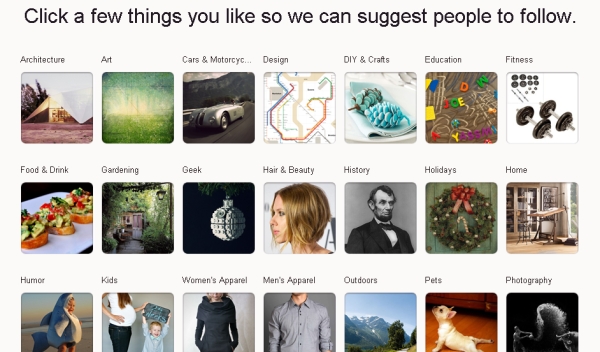 I'm pretty sure I hate Pinterest. Yes, I know a bunch of hip programmers are busily trying to make all the fonts on the site even bigger, and realistically, there's probably a greater chance of monetizing Pinterest than there is a lot of other social media platforms, but Pinterest has been around for a while now, and it's still all bruschetta and washed out pictures of cars people who don't know anything about cars think are cool.
But it's worse than that. In aggregate, the stuff that Pinterest has come to stand for gives me the willies.
I mention this because I set up a Pinterest account for a company last night, and the choices you see above were the first options Pinterest offered for building an interest profile. The remaining choices were:
Prints and Posters
Products
Science and Nature
Sports
Technology
Travel and Places
Weddings and Events
The "Products" category's icon was a photo of one of those aesthetically repugnant and horribly uncomfortable-looking chairs that's pretty much a replica of aesthetically repugnant and horribly uncomfortable-looking chairs one found in public libraries in the '70s. Poorer quality versions of those now apparently sell for upwards of $2000.
The "Sports" category included the obligatory football image, yet here–surrounded as it is by humiliated, little dogs and children dressed in home-made shark costumes–even "football" is somehow disconnected from anything even vaguely football. If you really liked football, you'd be terrified to click this, because you just know it's going to unleash a bunch of Tim Tebow shit.
My mission involves looking for some cycling-related stuff, and I've been down this road before, creating Pinterest accounts for cycling companies. It pretty much always goes the same way. I'd hoped maybe that had changed, but no. Plenty of social media experts could claim I just don't understand the platform. I'll admit there's much I can still learn about social media, if they're willing to admit they get paid to convince people they need to use Pinterest.
Meanwhile, so I'm trying to make this account. At this point Pinterest has emailed to confirm my email account. I'm already choosing from crappy interest options with overpriced chair icons, but clicking the "verify email" link in the email opens yet another Pinterest tab on my browser, where it proceeds to try to build a profile for me and fails endlessly.
I am not a professional programmer at a hip and heavily trending company, but does it not occur to anyone that letting people go directly on to creating an account in a browser and simultaneously sending them an email about creating the account they're already using could cause problems? For a while, I let Pinterest #2 struggle to "build a feed," secretly hoping it would come up with better options than the crap I'd seen so far, but of course it was hopelessly locked in a permafail and just kept refreshing my browser tab to waste resources until I finally put it out of its misery.
So back in the original Pinterest tab with the crappy options, I hold my nose and select "Sports," "Products," and "Outdoors" and hit the "Follow People" button.
What I get is indescribably bad.
I'm not even kidding. I refuse to describe the things Pinterest shows me, or even think about them ever again.
My options for vetoing the mighty Pinterest algorithm hell-bent on making all of us soul-less "product-liking" shells is precisely this: nothing.
That's right. I have to accept these horrible people and their "boards." And this is where you see the monetization that's so eluded Facebook already baked into Pinterest. Sure, you can delete all of these wretched collections of crap, but only after seeing them–and for most people, anxious to just start seeing stuff on their screen, some of those curated boards of indescribable garbage will hang around a long time. It's sort of diabolical, really. Pinterest really, really wants to know what you're interested in, so that it can show you mostly pale, overly commoditized shadows of those things. It's raw, unadulterated consumerism, traipsing around in vintage dresses.
Sure, Pinterest is about "discovery" and "sharing," two things I hate, but it's also just weird. At its worst Facebook can make you lose faith in humanity, but the dialogues it creates are also genuinely meaningful. I don't think that's true of Pinterest.
Don't get me wrong. I'm warming to it. My soul's as cumbersome as anybody's, and I long to just covet photos of speedboats, fancy mustaches and "football" (OK, so one photo I wasn't able to avoid seeing had a photo of a football player sitting next to a lion–there, I hope you're happy.) Time to start pinning.