What do you see when you look at the pitches for Kickstarter projects? Having founded a company before, I see a lot of hard work necessary to make something worth owning, but I'm not sure every budding DIY entrepreneur shares that same feeling.
Next week I fly to Portland to talk to a guy about a bike. Actually a lot of bikes. Given recent non-disclosable developments with this whole suspension system I designed, I've been thinking a lot about the viability of a new bike company. Some very serious people I admire and respect have expressed interest in doing something with the design I've patented, and I'm humbled and more motivated than ever to develop some bikes. I think I'm just waiting for a fortune cookie that says, "Make bikes, dumbass."
Like every other company that doesn't exist yet, this one would conceivably be currently in the "seeking funding" stage. Carbon fiber molds ain't cheap. Under the circumstances, I've been thinking about my old friend, Kickstarter. Could you use Kickstarter to help launch a bike company?
A lot of the bike projects I continue to see on Kickstarter tend toward the thinner definition of "manufacturing." The t-shirt above, for instance, can be yours for only $60 if you'd like to help fund Alden Seats, a guy's venture wrapping already produced bicycle saddles in stylish "brogue style" leather, which, one imagines transforms them from boring old "saddles" to luxurious "seats." Brogue is the new hotness, and these saddles are fetching, if slippery and potentially brick-like.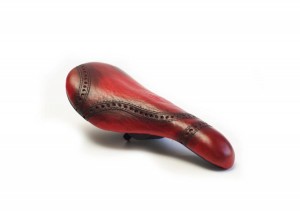 Likewise, the artisan behind this, Carson Leh, seems like a nice enough fellow. It's just that most of what I see on Kickstarter has a kind of non-committal quality, whereas I'm talking about actually producing things that would cost a lot of money to develop and a lot of money to buy. Consider Carson's bio from his project page:
Son of the Pacific Coast, born in Marin County, raised in beautiful Port Townsend Washington and a graduate of Western Washington University. I'm currently enjoying America's Riviera known as West LA. I spend my summers rafting the great rivers of the west from Arizona to Alaska. When not trying my hands at winemaking, architecture, and everything in-between, you can find me jumping curb cuts on my bike, eating tamales and climbing the waterfalls in Malibu."
While my politics trend toward "angry-hippie" as much as anything else, Carson strikes me as primarily a young man with a bit of a work ethic issue. I'm apparently old and unhip enough to believe that if you're quite literally asking people to give you money, you might want to tone down the "my life's a perpetual vacation" thing a little. But, as indicated, I'm a stickler for accountability, and not entirely at ease with the latest forms of do-it-yourself business. If I were to consider partially funding a major production effort through Kickstarter, I'd just assume I had to be absolutely and unquestionably accountable to my investors. I'd have a hell of a lot to do, and I honestly don't think it'd leave that much time for exploring "winemaking, architecture, and everything in-between," and I can guarantee my waterfall climbing skills would go all to hell.
The dynamics of the new DIY economy are unique, though. Consider that one of the comments for the "Alden Seats" project states simply, "Carson…can't I please have a t-shirt?" Clearly there's some new form of "meta-freeloading" out there, wherein even asking people to give you money prompts some people to reply asking for a free t-shirt.
So could a new bike with what's potentially the world's greatest suspension system be partially funded by the people, for the people? It's something I'm wondering. What do you think? We'd be talking straight gift certificates redeemable for their full amount. Maybe some t-shirts at a reasonable investment price, but I promise no bullshit poster pamphlets for those who'd donate their hard earned cash to the effort, and I vow, here and now, never to show that angle of a pelican on any t-shirt we'd ever make.