Having written about some of the stupid and narcissistic examples of "projects" on Kickstarter, it's only fair to draw attention to the polar opposite: the stuff that's really very good. And the most really very good I've seen is Twine, a tiny square that can sense stuff going on in the world around it and text, tweet or email you to let you know what's doing on.
Note the way this project, which has raised over $300,000 so far, is the opposite of, say, a self-obsessed plea for somebody to fund you basically watching your own paint dry. Not to be overly harsh to the artistic side of Kickstarter, which does have some merit and every once in a while probably changes the world and all, but I much prefer a world in which, in order to be paid, you have to produce a good or provide a service to someone other than yourself.
Tough to say when I'll just learn to quit bitching and take advantage of things–maybe launch a campaign wherein I ask people to contribute money in return for me letting them watch "the development of one of my blog posts, from blank page to finished work." A five dollar contribution buys you a word, which I must incorporate into the piece somewhere. For $1,000 you can title the thing. Better still, for $15 I let you submit three random references that I will connect with an almost coherent critical thought–like The White Stripes, The Lord of the Rings, and the word "platypus."
Somehow Meg White's halting, simplistic drumming works because it's stumbling along behind the almost incomprehensible talent of Jack White, a man who makes even gifted musicians look childish and insincere, and a man wise enough to know you get a hobbit to carry your rings, or play your drums. We can't all be tigers and cobras, Meg. Even rock and roll needs the occasional platypus on drums."
Surely, somebody's done this sort of thing already–I mean convince people to pay them for essentially nothing. In fact, I've had more than one experience in business that proves it.
Twine, on the other hand, offers a product that could actually be used to do something, a product that does not leave you completely reliant on how interesting the interior of an artists head will or will not be once you're allowed your peek inside. If you want to pay to watch people doodle, great–it's your money–but in Twine you have a project that's actually able to deliver a product, and a pretty cool product, too, a versatile sensor that can gather different pieces of information about what's going on around it physically and turn that into messages for you. The artsy-fartsy aspect of Twine is simply that you have to figure out how you want to use a new kind of product, and that's a big part of the appeal, too, but at the end of the day, you've contributed to the development of a product. The whole crowdsourcing applications of a new device and company developing a close-knit relationship with beta testers and early adopters and stuff makes a lot of sense for the two guys making these, but there's also full transparency, here: they can make these things, and if you want in, here's how you get in. It strikes me that this is how American business is supposed to work.
I've not yet seen an equivalent Kickstarter project involving, for instance, a new type of credit default swap or other dubious "financial product."
At least not that I've found yet.
Meanwhile, my own attempts to Create Something continue to convince me I should either play the stock market or learn to grow my own food. See that nearly vertical blue 190.5mm long line toward the right? That's the new shock position.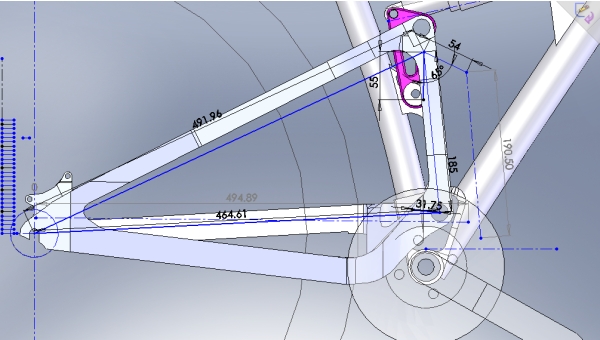 In order to get things just as I want them, it's looking like I'm going to have to go with the Giant Maestro-esque "low shock" configuration, which should work just fine, except that everybody will think my design's like a Giant, which will cause me to say things like, "Motherfucker!" all the time. Given the lower rocker position, I'm thinking about a pretty open machined triangle coming up from the bottom bracket shell. I think this could be made pretty light and extremely stiff.
Of all shock positions, the low vertical orientation turns out to work particularly well for this design, which is a little unusual. I'd initially thought a more horizontal shock was going to be the way to go, but, even though it looks like my swingarm is rocking forward, the front of it is really rocking about straight down.

Instead of being a DW-link Maestro system like the Giant, my shit actually pivots around the center of its own swingarm. Meaning the instant center is behind the bottom bracket and that I can make my rear axle move absolutely vertically if wanted it to. I don't, but, given how much I like tire clearance and 29ers, I wanted a design that would let me get true vertical axle path and everything else that's even close to it. I also wanted a bike that felt tight, like a dirt jump bike from the bottom bracket back.
Balancing out all the options is the biggest pain in the ass. So how much chain growth is really too much chain growth? How noticeable is a shock rate of .40 versus .43? Once I make the final decisions, I'm in for some assembly rebuilding. No fun.
I have to admit, it'd be much easier to try to get sponsored for drawing drivetrains in Steve Jobs' head.