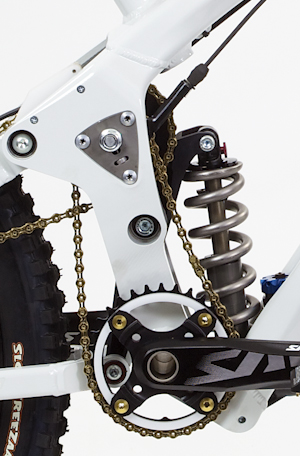 If you're a dealer cog in the complex drive train of bicycle sales, a big gear in your system started turning last weekend. You might not have felt it yet, but you will.
This was the first year I didn't attend Frostbike, a mammoth bike industry get together at the mothership of the industry's most formidable distributor, Quality Bicycle Products, in Minneapolis. I'd like to think I didn't attend because there just wasn't any challenge in it, given the incredibly mild weather the Twin Cities had this year–at least, compared to last year, when our flights home were canceled and we had to rent a car and idle through a 300-mile white-out at a blistering fifteen miles an hour while subsisting on cheese curds and counting wrecked cars to pass the time. Sadly, not attending this year means I missed something that's been many years in the making. Bicycle Retailer is describing it as a "war". The mighty Q's El Presidente and Raison d'Etre All in One, Steve Flagg, called out some large retailers, including Amazon, in a pretty unequivocal way:
"I believe that our industry is losing the war against the Chain Reactions, the Wiggles, the Amazons. We think that together with all of you we can address this problem."
Well damn. This is a tremendous statement. If it doesn't seem to tremendous consider that QBP's headquarters is very much in Minnesota, where the average denizen could be handed a foamy-mouthed possum instead of a burger at a drive-through window, and just politely drive away for fear of hassling the store manager and maybe getting somebody in trouble. In fact, this statement translates from the native Midwestern parlance just about like this:
And just what does QBP intend to do about it? According to BRAIN's article, Flagg is quoted as telling the gathered dealers:
Via mobile device, a customer in a shop could log on to a QBP service with access to its stores' inventory and search for a specific product. A map would pop up indicating the nearest shops that have the product in stock or that will have it in a predetermined number of days.

If a retailer is selected for same-day pickup, the customer would pay for it online and then be asked if they want the product installed at the shop. Flagg noted this would play to local dealers' key strength and offer what online competitors can't: service, warranty information and deep product knowledge.

"I believe we have the capacity in 2012 to do this."
BRAIN has a known weakness in what I believe is generally considered "journalism" and involves things like follow-up questions, and, having not been there, I'm left to wonder if Flagg was merely musing here (as he did one year when he asked the gathered dealers clamoring for him to basically make them all web sites why he shouldn't just become the biggest on-line dealer himself), or if this technology is on the short list of to-dos at QBP. Even if this idea is only that, though–merely an idea–it marks a technological answer to the problem of mobile price shopping apps released by the likes of Amazon–an issue heretofore only addressed by Specialized, who only whined about it and used for their own political ends. To be sure, QBP stands to experience their own political gains–not to mention top line growth–in pursuing something like this, but a trademark QBP distinction is also evident: this helps local dealers.
But showing us a shiny new weapon in the battle for independent bike shops is only a small part of the significance of this statement. I've long been rambling on about how local bike shops need to get their asses on the Internet and start staking their claim to bicycles in the digital age, or stop whining, give up and become a repair-only shop.This newly announced stance by the major player in the wholesale distribution space is a big deal for reasons that might not initially be so obvious. In singling out a particular type of massive on-line retailer–the digital equivalent of Walmart–and pitching a new mobile technology for local shops, Flagg is legitimizing the Internet as a means of selling bicycle parts.
The minute you're pro-actively heading onto the web to pursue sales, you are an "Internet retailer," and this is precisely what Flagg had to sell at Frostbike this year. Whether the mobile app involved takes us to a local shop's web site to make a purchase, or tells us where we can walk in their door is, ultimately, inconsequential here. He is suggesting the IBD move from "gatherer" to "hunter." That's a big deal. More importantly, he's letting us all know this is not a drill, and he's not a guy you should ignore. Even if Flagg wasn't one of the smartest people in the industry, listening to everything he says very carefully would be wise, if only because of the huge quantities of industry intelligence and analytics his company is constantly gathering. Add the fact that he is one of the smartest guys in this or any other industry, and you're looking at a genuine warning for all IBDs. Far be it for me to say I told you so, but with or without QBP's help, dealers need to do something now.