I'd like to propose a new phrase:
"Behind a Buick."
You know: nearly every shitty experience when you need to get somewhere involves being behind someone in a Buick. Somebody's placed "Buicked" in the Urban Dictionary, but that really describes an action (pretty elegantly, too), whereas I'm describing a broader status or condition, as in:
"Man, ever since Leslie starting using crystal meth and hanging with those circus carnies, her life's been behind a Buick."
or
"Roy found himself homeless and without either of his ears. His wife had left him for a circus carnie, and he turned heavily to alcohol and Scientology, which he believes fueled his naked rampage with the ATV in the Westmoreland County Mall last Thursday. 'I been behind a Buick my whole life,' he is quoted as telling the officer who eventually shot him."
or
"Pinarello's fugly commuter bike is behind a Buick."
At least someone in Marketing had the foresight to name this model "Only the Brave," though I'd probably have gone for the more consumer-facing, "What the Fuck is Wrong With You?". Like so many great cycling products, it's a collaboration an Italian design company–Diesel, in this case, whose "Be Stupid" tag line and underlying philosophy offers some insight into the bike's design:
Just another example of an ultra-successful cycling-fashion partnership, and I'm sold.
After years of obsessing about frames, components, and apparel, I'm thinking it might be time for me to change direction, and turn the entirety of my cycling life over to fashion designers. It works for celebrities. Following this logic, I'd be picking up this sweet helmet Diesel lists right next to the bicycle on their site.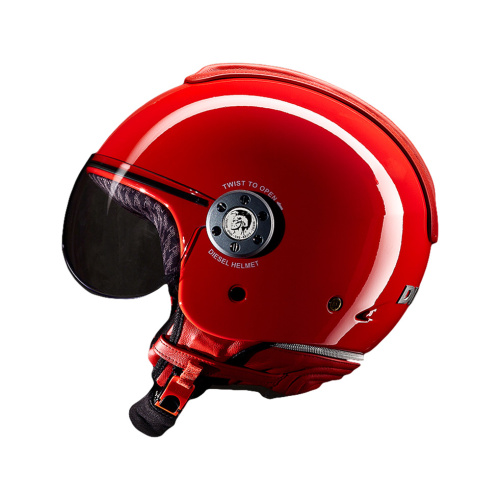 When not wearing clothing I've made myself, I'm all Rapha all the time, and I'm pretty sure I can convince D2 Shoes to make me something in gatorskin that's still SPD-compatible. And I'm going to go Louis Vuitton on the messenger bag–not necessarily because I'm convinced it's the best and most expensive, but because, after seeing this, I can't imagine sitting through another one of these videos, even as a joke.
Seriously, tell me that's not the scariest fucking video you've ever seen. If the guy who made that video hasn't killed and eaten anybody, it's only because he's so busy videotaping bags while muttering shit to himself and saying, "Yeah."