(*Made in Taiwan?)
Just when I think I'm down to only snarky rants, something important to me and maybe even interesting to others comes along. In this case, my search for someone to build me a frame has become the sort of thing worth mentioning here, because it's decision time.
I've been hoping to find someone capable of fabricating a frame for me. Before anyone suggests I go to Portland, where custom frame builders cluster around the pedi-cabs of tourists, jostling for attention and occasionally locking handlebar mustaches in terrifying displays of territorial competition, I'm not looking for an "artisinal" frame builder capable of airbrushing The Last Supper on a steel hardtail with six top tubes (though that would be pretty cool). I'm looking for more of machine shop this time around. This is the contraption what I'm fixing to see made: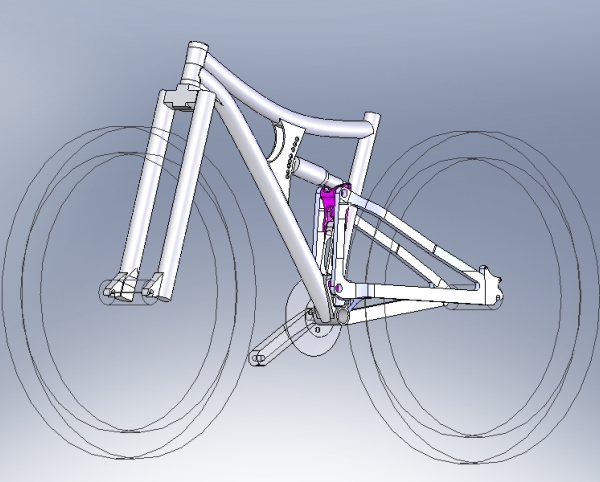 In 2007 I came up with a different take on a suspension system for a bike frame, then forgot about it until the patent was approved last year. I'm a fan of crowdsourcing ideas, and previously mentioned that I'm open to any ideas for the design and for partnerships, but, unless you've read the patent in detail, chances are you don't know much about the design. I'm going to try to provide as many details about the design as possible here at canootervalve.com, and, as always, I'm easy to find at chris@canootervalve.com and would love to talk suspension systems.
Here's some things I'm up to with the design:
Conceived from the ground up as a 29er–rear tire clearance and the relationship of the bottom-bracket to the wheel's axles require a unique design
Predominantly vertical axle path
Short, dual-links allow a huge tuning range for bike rate
Designed around simplicity and frame fabrication versatility–I wanted to keep the suspension system from compromising the basic front triangle design
Everything low–the position of the shock shouldn't ruin the bike's standover
Maximum tire and chainring clearance
The shortest rockers that would still allow a range of quality ball bearings
Very little chainstay growth under compression–it's not a World Cup DH frame, and I want the chainstays to be short all the time, not just when the bike's sitting still
Yep, short chainstays–more importantly, a suspension and frame design that allows them to be as short as possible, and likely into hardtail range
Simple swingarm that can be built of larger diameter shapes
Light by design
Here's a quick animated GIF to help illustrate the motion of the swingarm, which is the unique part.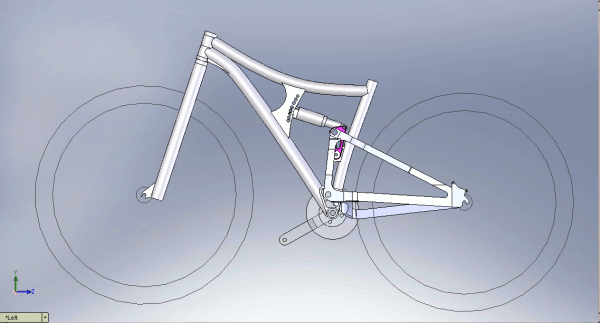 Those of you who really geek out on suspension systems will pretty quickly notice what's so different about the design. What Sotto has developed for Yeti is the only other thing I've seen that orients the rockers in this position, and the designs seem very similar, though they're doing something different from me. More on the actual swingarm motion later, or if anyone wants to contact me privately.
Anyway, I don't have a welder or a machine shop, and I need to build a proof of concept to go test this thing. I've already been in touch with multiple builders to get an idea of time frame and cost of the project. Given all my recent rants about U.S. innovation and such, I naturally was trying to have the prototype built here in the States, so, as a kind of practical experiment, I contacted two different parties about building the proof of concept frame today: both are companies–not individuals–and one was in the U.S., while the other was in Taiwan. Both have already gotten back to me.
Decisions.
I've never been in the position of a manufacturer, paying for fabrication of a product. In both cases, I'm in the "about to sign a non-disclosure agreement" phase, but it will be really interesting to see how the two scenarios play out, and what the actual, landed, price difference will be. More than anything, it will just be tremendous learning experience to go through this process, and my goal is to document as much of it here as possible.
Though I'm not looking to launch a bike company right now, I think I might also need a name for a new company I need to create as the owner of this design. I named the last thing I did "Speedgoat," so tough to say where I'd go with this.