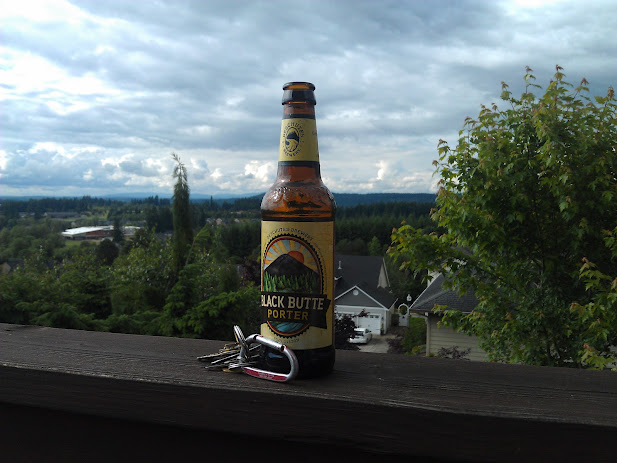 You know you're tired when you've just moved into a very nice home and this is what's making you happy:
a carabiner works as a bottle opener
the couch you bought from the previous owners is big enough for you to sleep on
In fact, I'd like to sleep for a few days straight, but the unloading starts bright and early tomorrow. Have to say this place feels like home, though. If there was any doubt I'd picked the perfect place to live, the guy detailing his Saab while dressed like Elvis at the local Safeway here today put it all to rest. In Laughlintown, all the Elvis impersonators drive Fords. This is the Promised Land.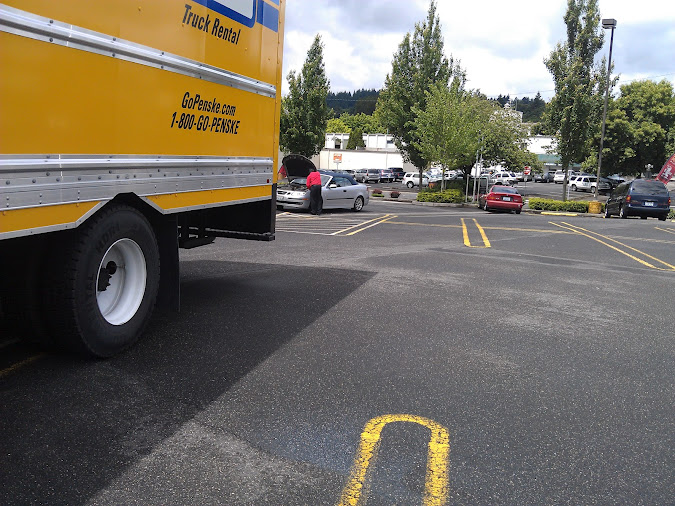 In the meantime, I just received an email from Strava about some updated terms and conditions they have. Whatever could that be all about? As much as I sympathize with the family of the cyclist killed trying to set a new Strava record, blaming Strava for pushing yourself on a bicycle makes about as much sense as suing Lance Armstrong because your heart exploded trying to match his time up Alpe d'Huez. For Armstrong, no doubt, such a lawsuit would be the best legal news he'll receive this year, but the point is you can't hold Strava accountable for shit you do on a bicycle.
Here's an excerpt from the "don't sue us" wording on their new Terms and Conditions page:
YOU EXPRESSLY AGREE THAT YOUR ATHLETIC ACTIVITIES, WHICH GENERATE THE CONTENT YOU POST OR SEEK TO POST ON THE SITE (INCLUDING BUT NOT LIMITED TO CYCLING) CARRY CERTAIN INHERENT AND SIGNIFICANT RISKS OF PROPERTY DAMAGE, BODILY INJURY OR DEATH AND THAT YOU VOLUNTARILY ASSUME ALL KNOWN AND UNKNOWN RISKS ASSOCIATED WITH THESE ACTIVITIES EVEN IF CAUSED IN WHOLE OR PART BY THE ACTION, INACTION OR NEGLIGENCE OF STRAVA OR BY THE ACTION, INACTION OR NEGLIGENCE OF OTHERS. YOU ALSO EXPRESSLY AGREE THAT STRAVA DOES NOT ASSUME RESPONSIBILITY FOR THE INSPECTION, SUPERVISION, PREPARATION, OR CONDUCT OF ANY RACE, CONTEST, GROUP RIDE OR EVENT THAT UTILIZES STRAVA'S SITE.

YOU EXPRESSLY AGREE TO RELEASE STRAVA, ITS SUBSIDIARIES, AFFILIATES, OFFICERS, AGENTS, REPRESENTATIVES, EMPLOYEES, PARTNERS AND LICENSORS (THE "RELEASED PARTIES") FROM ANY AND ALL LIABILITY CONNECTED WITH YOUR ATHLETIC ACTIVITIES, AND PROMISE NOT TO SUE THE RELEASED PARTIES FOR ANY CLAIMS, ACTIONS, INJURIES, DAMAGES, OR LOSSES ASSOCIATED WITH YOUR ATHLETIC ACTIVITIES."
That's one hell of a "don't look at us" statement, but it's pretty clear that every bit of it should've been in there from the start (and maybe it was–nobody reads those things until something goes horribly wrong anyway). Are more people out there pushing themselves to set records because of Strava? Absolutely. It's the social meets competitive element that's distinguished Strava from the countless other mapping apps out there, but that's what's burning them here. We still live in a society saws need stickers to warn you they're sharp, and the "Strava made me do it" argument may not be brushed off as easily as you'd think.
If things somehow don't go Strava's way with this, we can expect all hell to break loose among litigious types who didn't realize some really dangerous shit they were doing was really dangerous. That includes riding a bicycle. They say you can drown in an inch of water, and sometimes all it takes to shuffle off this mortal coil is three beers and a skateboard, so I'm pulling for Strava here. I'm pretty sure their app drains most of the fun out of riding, but I support their right to let some people live in a perpetual state of one-upmanship if they choose to.
Mat Barton
I rarely have a "more serious note" in these posts, but my friend and co-worker Mat Barton was seriously injured in a short track race on June 11th here in Portland, and the current prognosis is that Mat will be permanently paralyzed from the chest down. If any of you are fortunate enough to have met Mat even briefly, he's no doubt left an impression for his genuine enthusiasm–he's a positive guy, and not in that cheesy self-help bullshit positive way common to people who secretly loathe themselves. Mat's just an extremely nice guy, and he and his wife, Jessica, are hurting right now.
Mat's a responsible guy and a gifted and successful graphic designer (most of what you'll see on Cyclocross.com is the direct result of his work), but nothing prepares you for the changes Mat and Jessica are having to face right now. If you can at all spare even a small donation to help a fellow bike rider and his family, friends have created a PayPal donation site for Mat.
Thanks for reading. Time to go search the truck for a few more basic essentials. Plenty more bike news afoot right (including that sausage attack in Massachusetts), but it'll have to wait until I get this move finished up entirely.