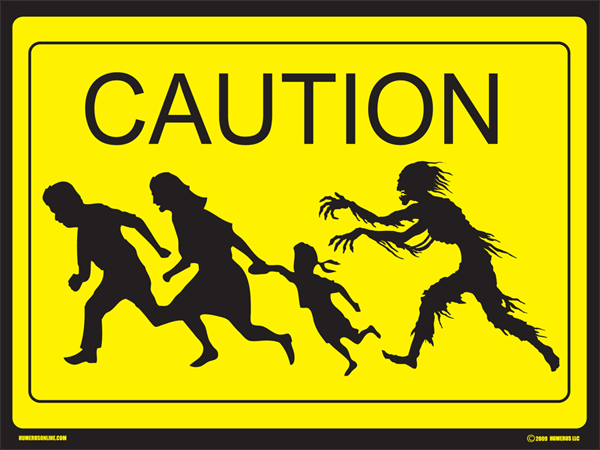 Results continue to come in from the questionnaire I posted yesterday, but the general consensus is that I should keep prattling on about random stuff here as long as the writing remains at least slightly entertaining, or at least until everybody switches to my daughter's daily cartoon site.
As a kind of punishment for all of you then, I found myself once again pondering America's ever-growing love affair with doomsday. Have previous empires developed a fascination with zombies and the end times a decade or so before getting their asses handed to them by the second and third-place world superpowers and fading into obscurity? I ask, because it seems like a lot of the same red-blooded "love it or leave it" types are the first ones abandoning ship. What the Ted Nugents of the world don't understand (I mean, in addition to science and books without pictures) is that canning meat and living underground means you've abandoned your country.
Oh, that's right: I keep forgetting that once the zombies attack, you're going to find that virtuous but inexplicably scantily-clad fellow crusader and get down to repopulating the country with true patriots. Is there a tipping point, you think, where enough disenfranchised people give up on their chances of happiness in the world as we know it, and start cheering on apocalypse? I mean, was there that tipping point? Seems it might've already happened.
Gambling on your lot improving once the streets run with blood is nothing new. I grew up Catholic, and "You'll Be Happy Some Day, While Those Happy Now Won't Be" has been one of the Church's greatest hits for a few thousand years running. These days, though, it's never been easier to root for the undead to rise and tear down this life that just isn't working for you.
Consider Survivalist Singles, the new dating site for "preppers" I just learned about from, naturally, CNN Money. According to CNN's article:
Survivalist Singles, which officially launched in 2010, boasts the slogan, 'Don't face the future alone.' Its ranks are growing — quadrupling to about 1,640 members from around 400 at the end of 2010."
As one might perhaps expect, "For female preppers interested in finding a man, the site is a dating goldmine." CNN tells us the site was founded by Andrea Burke, "a 45-year-old middle school art teacher from Montana," which feels instinctively right for this, though it's a fun exercise to imagine how large it would have to grow before some brilliant and cosmopolitan Silicon Valley tech billionaire/venture capitalist would decide to hold his nose and make an offer. Is it possible to purchase a tech company ironically? I do think a site based on end-times dating in bunkers in Montana would best be operated as a joint venture between Ashton Kutcher, Lady Gaga, Andy Samberg, and MC Hammer.
Still, it's not all canned meat, chainsaws and repopulatin'. There could be bad things about a zombie apocalypse, too. The expense, for one thing. As CNN Money reports, "Burke is planning to charge a $5 monthly membership fee so she can generate income from her project. She is considering using a slogan like, 'Find love for less than the price of a box of bullets' to draw in paying members." Really? Membership fees are so Y2K apocalypse. Where's Eric Schmidt as an investor when you need him? Can you imagine the granular specificity ad placement potential for a voluntarily captive audience? Goldmine.
Human interaction, though, will prove to be the biggest hurdle. It would seem preppers, many of whom were late to the whole "Internet" thing, are only now realizing how wonderful on-line anonymity can be, relative to having to actually meet someone in person. Having invested a lot of energy primarily into survivalist skills–developing the highly refined sense of smell necessary to determine when a possibly-bitten Uncle Larry is about to "turn," for instance, or knowing with mathematical precision exactly when the family dog becomes less of an asset and more of a food source–the one thing many preppers find themselves completely unprepared to face is life with another human being. CNN Money describes the case of one SurvivalistSingles.com user pretty poignantly:
Because he lives in the mountains of Montana, distance has been a problem. He has met only one woman face-to-face out of more than 20 he has corresponded with on the site. After she visited him in Montana, they decided to just remain friends."
She'll be back, Mtexplorer2. One day she'll need you, and she'll come back running.